Menu at Krazy Sushi is full of fun and flavor
August 13, 2015 - 1:25 pm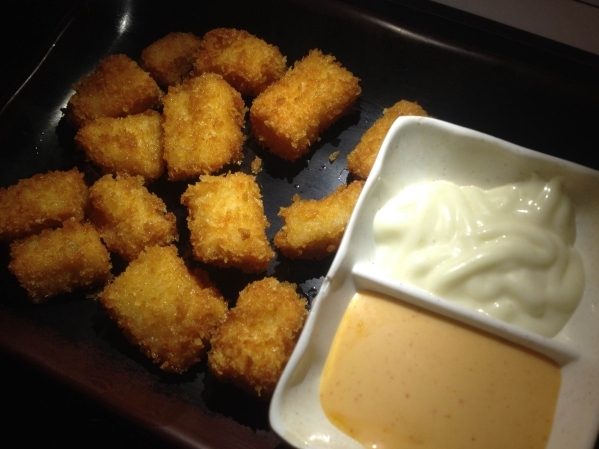 Some people just cannot get enough sushi. Whether it's sashimi, nigiri, classic or vegetable rolls, each can be consumed with one bite, making it an ephemeral joy.
Those who want to prolong their farewell can head to Krazy Sushi, 7160 N. Durango Drive. With its popular all-you-can-eat menu, it's an ideal place to fulfill the gluttonous desires of foodies.
Located inside the Montecito Marketplace, Krazy Sushi offers traditional Japanese food, including noodle and rice plates, seaweed salad, miso soup, edamame, age dashi tofu and vegetable tempura. However, the real star is, of course, the sushi.
For those who want to try the all-you-can-eat menu, the rules are simple: No sharing. Food that is shared will be charged. There is also a time limit. Lunch is 45 minutes, dinner is one hour, and customers will be charged for a "regular price" if accompanying rice is not eaten or there is leftover food.
Lunch costs $20.95 and ends at 3:45 p.m., and dinner costs $26.95 and ends at 2 a.m. The waitress makes sure people are aware of the rules and warns patrons not to order too much.
Then the fun begins.
Customers can start by ordering a soup or salad and an appetizer.
Then they can try the flying fish eggs wrapped in seaweed, tuna sashimi, yellowtail sashimi, or stick to the perfect blend of sweet and crunchy Dragon rolls.
Half of the fun is reading the names of the various types of rolls. From the Beware of Burn Your Boom Hole roll to the Cocaine sashimi, patrons will have a laugh just looking at the menu.
Most rolls range from $5 to $15.
Desserts also come with the all-you-can-eat menu and include mochi ice cream, cheese cake and ice cream.
Drinks include beer, sake and wine, soda, tropical ice tea, green tea and water.
Krazy Sushi is open from 11 a.m. to 11 p.m. Monday through Thursday, 11 a.m. to 2 a.m. Friday and Saturday and noon to 11 p.m. Sunday. Call 702-735-7299 or visit krazysushi.com.
Krazy Sushi
Montecito Marketplace, 7160 N. Durango Drive, Suite 140
Call 702-735-7299 or visit krazysushi.com.