Cotto risks WBC belt against Alvarez at Mandalay Bay
August 13, 2015 - 11:00 am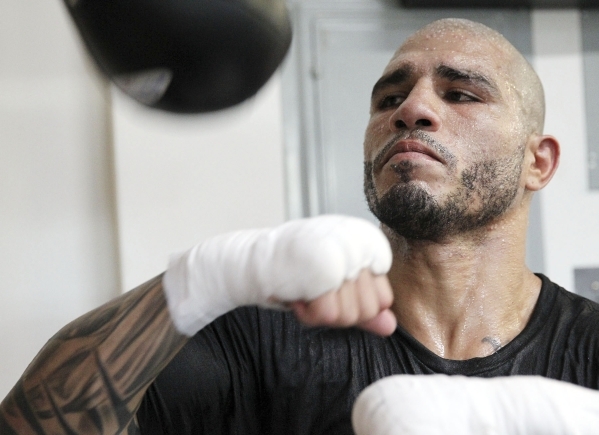 One of boxing's most anticipated fights was finalized Thursday, and Miguel Cotto will defend his World Boxing Council middleweight title against Canelo Alvarez on Nov. 21 at Mandalay Bay Events Center.
The 12-round bout, to be fought at a catchweight of 155 pounds, will be televised on HBO Pay Per View. Despite it not being a true 160-pound fight, Cotto's belt will be at stake.
"I will give the fans the fight they want to see," Cotto said. "As I have always said, during my whole career, I am here to fight the best names and the best fighters. This will be another chapter in my career, and I will be ready for him. The fans will enjoy a real fight, another classic battle in the Puerto Rico vs. Mexico rivalry."
The fight was officially announced after months of negotiating between Golden Boy Promotions, which promotes Alvarez (45-1-1, 32 knockouts), and Roc Nation Sports, which promotes Cotto (40-4, 33 KOs).
It's a fight Alvarez had been seeking for a long time, and now he has a chance to win a world title in another weight division.
"Historically, megafights are made because fans demand them," said Alvarez, a former WBC and World Boxing Association junior middleweight champion. "In this case, the fans have spoken out, longing for this fight, and it is my pleasure to say that it is finally happening.
"All fights at this level are very important, but this fight in particular has something more. It will hold a special place in history as part of the big rivalry between Mexico and Puerto Rico, and I promise all the fans that this is going to be an event that will not disappoint."
Both fighters are coming off impressive wins. Cotto demolished Daniel Geale on June 6 in Brooklyn, N.Y., winning by technical knockout in the fourth round after dropping Geale twice in the round. Alvarez is coming off a devastating third-round knockout of James Kirkland on May 9 in Houston.
But each fighter knows he is taking a decided step up in class.
"I know it can be a historic fight," Alvarez said. "That's why I've already begun to train, and I want to make sure I'm at my best when we meet."
Chepo Reynoso, Alvarez's head trainer, said Cotto is a much better fighter now working with Freddie Roach than he was three years ago when the fight was first proposed.
"Cotto does a lot of things well," Reynoso said. "But we will be prepared for everything."
Cotto said while he respects Alvarez, it doesn't make sense to compare Alvarez to Floyd Mayweather Jr., Manny Pacquiao or Sergio Martinez.
"Every fight is different," Cotto said. "Canelo is a different fighter than Mayweather or Pacquiao or (Antonio) Margarito. So I don't like to compare fighters. But Canelo is a great fighter, and I'll be prepared to beat him."
There was much speculation this fight would wind up in New York. But with Cotto training with Roach in Los Angeles and Alvarez working out in San Diego, Las Vegas was convenient for both fighters. Plus, neither will have to pay state income tax in Nevada.
The price for the pay per view hasn't been determined. But Golden Boy president Oscar De La Hoya said fans won't get ripped off.
"I promise this will be less than $100," said De La Hoya, referring to the price for the Mayweather-Pacquiao pay per view. "The fans will get plenty of bang for their buck."
De La Hoya said the timing for the fight couldn't be better.
"This fight is even bigger now," he said. "We knew Mayweather-Pacquiao were fighting May 2. But now that that fiasco is behind us, we can concentrate on putting on the biggest fight in boxing history."
Contact reporter Steve Carp at [email protected] or 702-387-2913. Follow him on Twitter: @stevecarprj.