Silva suspended one year, fined for using steroids
August 13, 2015 - 10:45 pm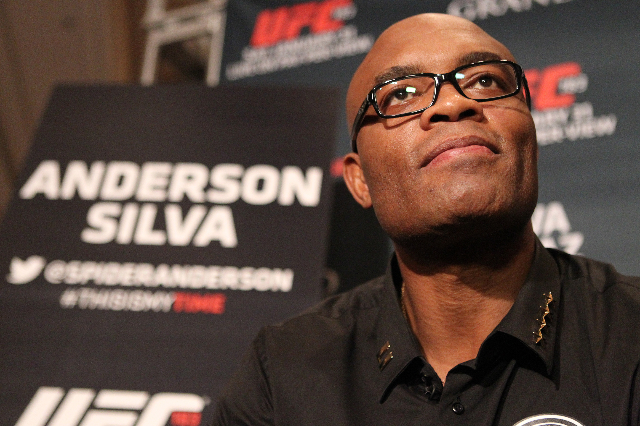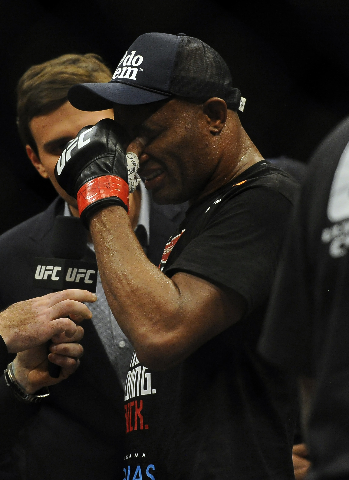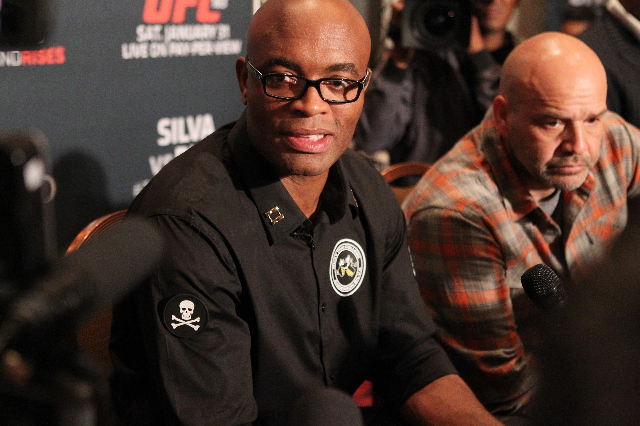 Anderson Silva, a former Ultimate Fighting Championship middleweight champion, admitted an attempt to enhance his performance was to blame for positive steroid tests before and after his Jan. 31 fight with Nick Diaz.
But Silva told the Nevada Athletic Commission during his disciplinary hearing Thursday that his efforts had nothing to do with his fighting career.
Silva, 40, testified under oath to the commission that he was taking a substance in a blue vial a friend had obtained in Thailand to aid in sexual performance. Silva's account was corroborated by a witness who informed the commission he had done testing on the substance and found it contained drostanolone, though he had no paperwork to support his findings.
In the end, the four-member commission voted unanimously to issue Silva a one-year suspension and fine him $380,000, an amount determined by a combination of his entire win bonus of $200,000 plus 30 percent of his $600,000 fight purse. The suspension is retroactive to his Jan. 31 fight date.
"I just don't feel like we're getting the whole story," commissioner Anthony Marnell III said during the deliberation portion of the hearing.
An out-of-competition test administered to Silva on Jan. 9 came back positive for drostanolone and androstane. He was tested again Jan. 19, and the result was negative.
Silva was then tested Jan. 31, before and after his fight. That test came back positive for drostanolone and benzodiazepine, which Silva said resulted from a prescription he took the night before the fight to treat a back injury and anxiety.
The fighter said that drug had been prescribed by a doctor in Brazil.
Most of the hearing, however, centered on the mysterious blue vial. Once peripheral matters such as a challenge to the credibility of Silva's expert witness and confusion about the translation of some of the fighter's answers were cleared up, the case essentially came down to the commission not accepting Silva's explanation.
"I am human and made mistakes," Silva told the commission through a translator. "If I had known this supplement that I was taking for something else would have caused this sort of problem, I never would have taken it."
All four commissioners cited his credibility during deliberations.
Silva had said during the hearing that his last known ingestion of the sexual-enhancement drug came around Jan. 8. Later, when one of the lab doctors testified that could not be responsible for the Jan. 31 result, Silva said he may have taken it again around Jan. 27.
In the end, the decision was made to issue Silva a penalty near the top end of the typical range for first-time offenders.
"The UFC organization maintains a strict, consistent policy against the use of any illegal and/or performance-enhancing drugs, stimulants or masking agents by its athletes, and fully supports the commission's ongoing efforts to ensure clean competition by all MMA athletes," a statement released by the organization late Thursday read. "UFC recognizes Silva's great career and looks forward to his return to the octagon in 2016."
Results of the Jan. 9 prefight test were not available to the commission until after the fight, which is why Silva was allowed to compete.
The fight against Diaz came at the end of a 13-month layoff after Silva suffered a broken leg during a fight against Chris Weidman. The result of the fight against Diaz, originally a unanimous decision for Silva, was changed to a no contest. Silva will be required to submit a clean test before being granted a license to fight again in Nevada.
* NOTE — Weidman will defend the middleweight title against Luke Rockhold in the co-main event of UFC 194 on Dec. 12 at the MGM Grand, UFC officials confirmed Thursday.
The event will be headlined by a featherweight title unification bout between champion Jose Aldo and interim champ Conor McGregor.
Contact reporter Adam Hill at [email protected] or 702-224-5509. Follow him on Twitter: @adamhilllvrj.