Heavy rain, lightning in Las Vegas cause flooding, power outages — PHOTOS
August 13, 2015 - 9:18 pm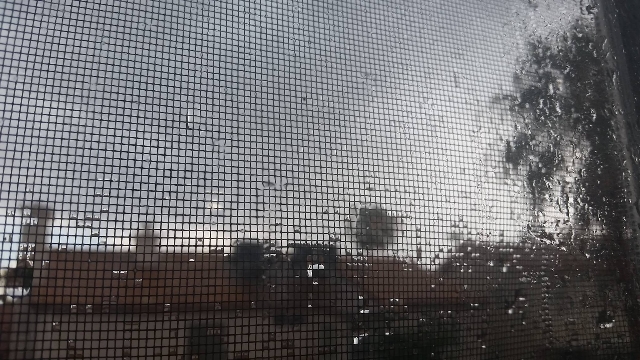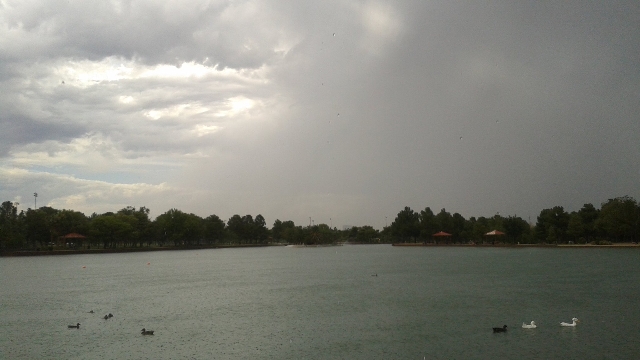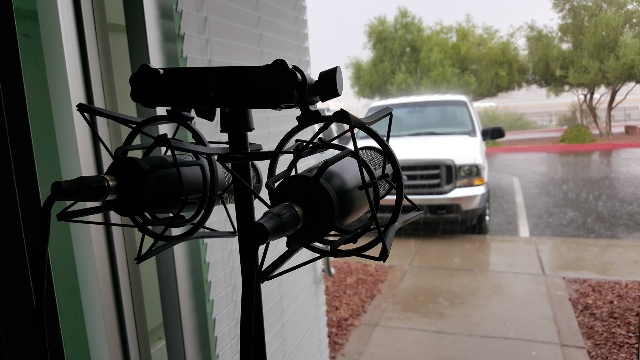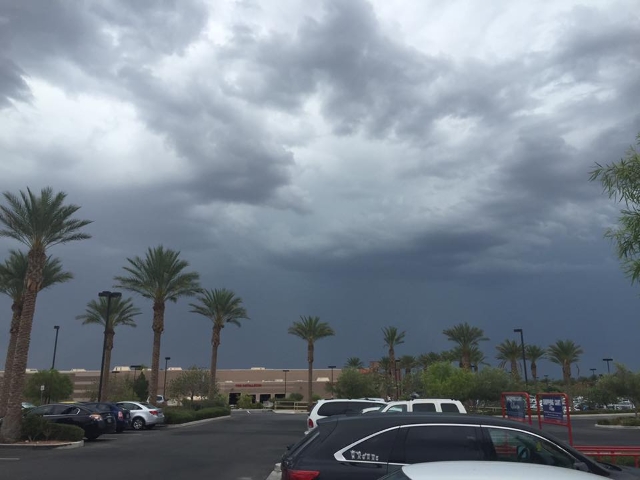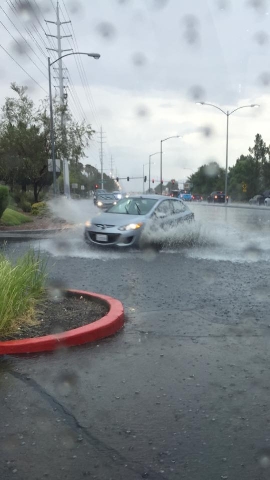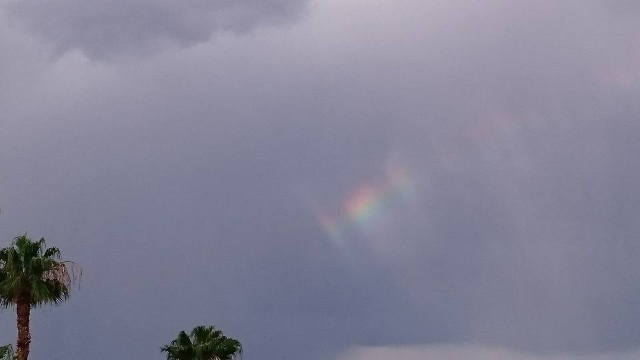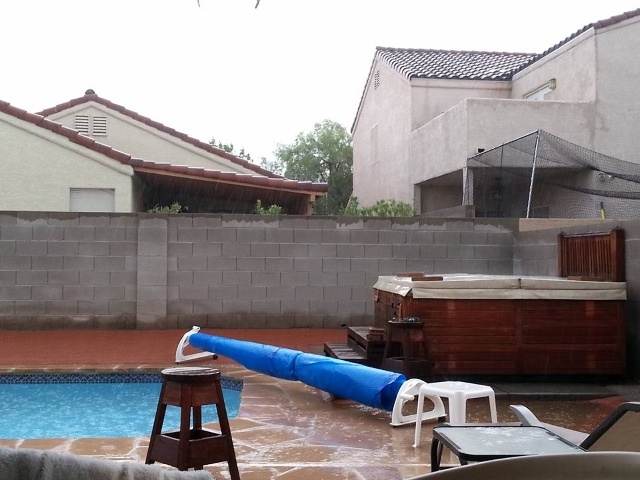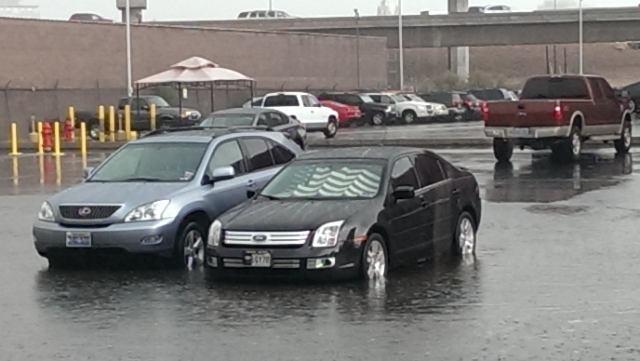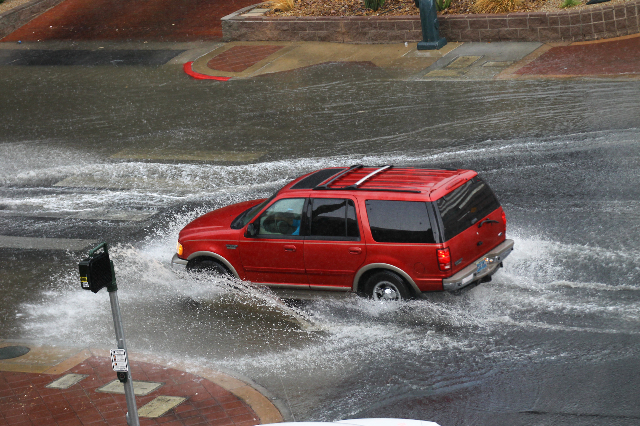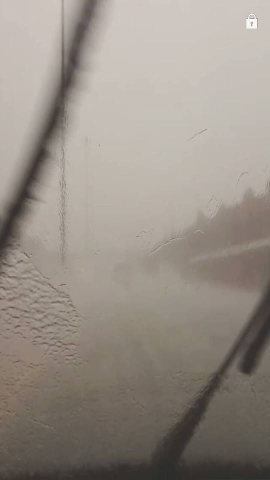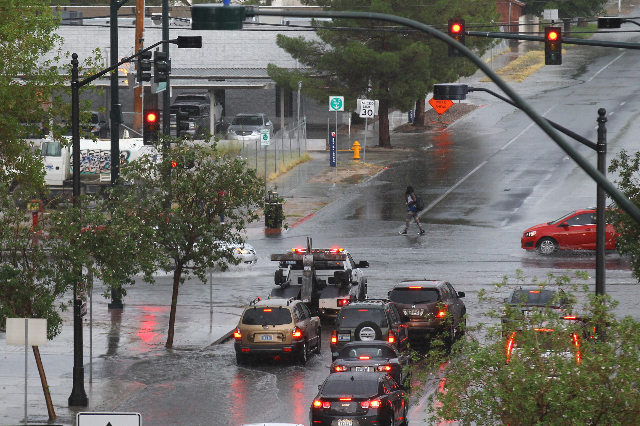 It's a crapshoot whether the valley will see any rain on Friday following a thorough soaking by Thursday's thunderstorms.
Rainfall left thousands of homes without power and flooded streets Thursday, and there's a 50 percent chance of more wet weather Friday afternoon, according to the National Weather Service.
Friday's forecast includes a 20 percent chance of rain in the valley and a 30 percent chance in the mountains, with high temperatures of 105 degrees. The valley will remain on an excessive heat watch until at least Sunday, but a Friday storm could make a drastic difference, as it did Thursday.
Valley temperatures peaked at 103 degrees just after 1 p.m. Thursday, but dropped to 77 degrees at 4:41 p.m., 10 degrees cooler than the morning low, weather service meteorologist John Salmen said.
Thursday's rainfall set a new daily record by just barely beating the 0.53 inches measured at McCarran International Airport in 1970. And parts of the valley recorded more than an inch of rain.
An official southeast valley measuring location near the Clark County Wetlands Park recorded a total of 1.54 inches of rain, Salmen said. A station near the 215 Beltway and Eastern Avenue recorded 1.4 inches.
"In general, everything east of (Interstate) 15 got decent rain," Salmen said.
Nearly 800 lightning bolts struck the ground across the valley from 2 p.m. to 4 p.m., weather service meteorologist Chris Outler said. That number didn't include several hundred more bolts of "flash lightning," which didn't make it to the ground.
NV Energy reported more than 10,800 customers without power as of 5:50 p.m., the bulk of them in Henderson. That number had dropped to 5,890 customers by 9:30 p.m.
Thursday's storms prompted several valley road closures and forced valley fire departments to perform multiple swift water rescues.
"Turn around and do not drive through flooded intersections," the City of Henderson warned residents through Twitter on Thursday afternoon. Horizon Ridge Parkway was closed between Stephanie Street and Gibson Road, and 11 Henderson intersections, including Sunset Road at Boulder Highway and Galleria Drive at U.S. Highway 95, operated as four-way stops when signal lights lost power.
Henderson Police spokeswoman Kathleen Richards said the department did not respond to any critical flooding-related injuries Thursday.
"Right now we're just looking at road closures and power outages," Richards said on Thursday night.
UNLV police warned of severe flooding on Maryland Parkway between West Tropicana Avenue and Flamingo Road, and on Harmon Avenue near the university's main library.
Las Vegas Fire Department spokesman Tim Szymanski said the department responded to three calls for water-related rescues between 2 p.m. and 4:30 p.m. The calls involved people stuck in their cars, Szymanski said, but all were rescued without injuries.
Kelly Blackmon, Clark County Fire Department deputy chief, said the department rescued one motorist stuck in a car at the intersection of South Mojave Road and Hebard Drive, north of Desert Inn Road.
No deaths were caused by flooding, valley police agencies said about 6 p.m.
Thursday's storm was the first of 2015 with such significant lightning and flooding, Outler said.
Such storms happen "a couple times each year" on average. The severe thunderstorm warning for Clark County expired at 4:30 p.m., but the weather service expected rain to continue in the valley until at least 8 p.m.
"It's typical of a major storm here to get that much lightning," Outler said. "They just don't happen very often."
Contact Wesley Juhl at [email protected] and 702-383-0391. Find him on Twitter: @WesJuhl
Contact Chris Kudialis at [email protected] and 702-383-0283. Find him on Twitter: @kudialisrj
In the heart of the storm? Share your pics and videos with us!