Smart meters battle ends for good
January 9, 2013 - 4:34 pm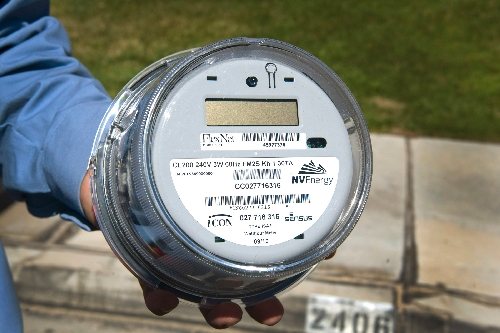 The yearlong battle over smart meters has ended for good.
The Public Utilities Commission of Nevada on Wednesday agreed to let local power utility NV Energy charge ratepayers to opt out of the company's smart-meter program. The commission also approved an analog meter as the alternative to smart meters, which transmit use data digitally, without manual reads.
NV Energy says it will charge a one-time fee of $52.86 and a monthly charge of $8.82 to opt out.
Consumers won't be able to keep their existing analog device. The company will provide new, sealed analog meters, partly because it's already installed most of its smart meters – less than 1 percent of local ratepayers still have their original analog meters – and also because regulations require new meters to be sealed and tested for accuracy and to prevent theft.
NV Energy can't begin installing opt-out meters until about Jan. 18, after it files its fees with the commission and gets formal approval.
Wednesday's decision ended a process that began in October 2011, after some ratepayers said in consumer sessions that they didn't want a smart meter for health and privacy reasons.
After months of hearings and workshops, the commission decided in November to let consumers opt out of NV Energy's smart-meter program with noncommunicating digital meters. Ratepayers who opted out would have paid a one-time fee of $98.75, and a monthly charge of $8.14, fees NV Energy said it would need to collect to keep meter-reading staff.
But the Bureau of Consumer Protection asked the commission in December to reconsider its decision, and instead let ratepayers keep their analog meters without paying a fee.
The opt-out program would be a trial plan that would last four years.
About 9,000 ratepayers statewide, out of 1.45 million metered customers, are on NV Energy's smart-meter postponement list. The company will begin contacting postponed ratepayers in late January to explain their options and opt-out procedures.
Contact reporter Jennifer Robison at
[email protected] or 702-380-4512.
Follow @J_Robison1 on Twitter.