Sheriff satisfied with new fact-finding process for police shootings
January 9, 2013 - 11:38 am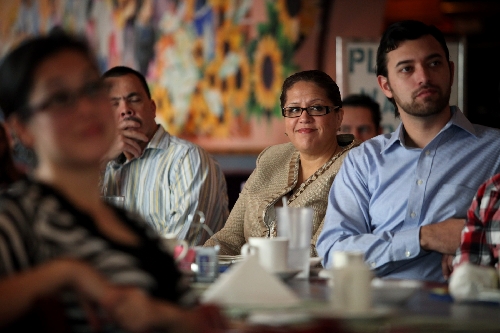 Clark County Sheriff Doug Gillespie on Wednesday said he is satisfied with a new fact-finding process to examine what happened in officer-involved shootings after police have been cleared of any criminal wrongdoing.
"We need a process that's public," Gillespie said, speaking to Hispanics in Politics, the leading Latino political organization in Southern Nevada. "I do not agree with those who want this process to go away."
District Attorney Steve Wolfson said he planned to ask police involved in such shootings to take part in the new fact-finding procedure approved Monday by the County Commission to replace inquests.
Police had legally challenged the decades-old inquest process, refusing to testify. No inquests have been held for more than two years, frustrating families of those killed in several controversial police encounters.
"We want as much participation as possible," Wolfson said in an interview after Gillespie spoke to the Hispanic group. "I'm hopeful some police officers will participate. They will be invited to participate. It's up to them."
The police union already has recommended officers avoid the new fact-finding process, however, saying their testimony could open them to civil lawsuits or federal charges they violated somebody's civil rights. Another concern is potential criminal charges that could be filed later if new information came to light, the union said.
"We recognize that you may want to explain your actions, because you know you did nothing wrong," said a memo from Chris Collins, executive director of the Las Vegas Police Protective Association, which represents the Metropolitan Police Department's rank-and-file cops. "However, our attorneys believe that you face significant risk by forgoing your constitutional protections. Simply put, there is no upside to waiving your rights and testifying at such a hearing."
Under the new system, the fact-finding hearings wouldn't take place unless the district attorney's office has cleared police officers of criminal charges in each case. From there, a hearing officer, such as a lawyer, would set the date. A prosecutor would choose the witnesses, and an ombudsman representing the family would be named.
The witnesses would include the detective who investigated the death, the district attorney who ruled it legal and probably the medical examiner who performed the autopsy. Others also could be called to testify.
The hearing master, ombudsman and prosecutor presenting the review have the ability to ask questions of the witnesses. Once each person has been called, the hearing is over. The entire proceeding would be televised and open to the public in a space such as the County Commission chambers.
Under the previous inquest system, nearly everyone involved in the police shooting incident, from civilian witnesses to the officers, were called. Inquests sometimes lasted days, ending with a determination by a citizen jury of whether the shooting was justified, excusable or criminal.
Family advocates and civil rights officials opposed the new system, calling it a glorified news conference.
But Gillespie said the new fact-finding process would provide families and the public an opportunity to understand what led up to a police shooting in what he called a "nonadversarial" setting.
"People can draw their own conclusions about what happened," Gillespie said, adding not everybody will agree on whether a shooting is justified or not. "I hope we're not met with legal challenges as we have in the past."
The first review under the new process – the controversial 2011 death of Stanley Gibson, the disabled Gulf War veteran who was shot seven times by a Las Vegas police officer – could be as soon as next month.
On Monday, Gibson's wife, Rondha, held up a round from an AR-15 rifle – the weapon officer Jesus Arevalo used to kill her husband – and pleaded to commissioners to adopt a different proposal than the fact-finding panel.
"What's it going to take before this county sees what's going on?" she said.
On Wednesday, an advocate for the Gibsons questioned Gillespie about why police would not be forced to participate in the process and face the families involved.
"How is it transparent when you can't even question the shooter?" asked Steve Sanson, president of Veterans in Politics. "How is that more transparency?"
Gillespie responded that the old system "got caught up in the legal process" and officers wouldn't cooperate, and so the fact-finding process was the best alternative to air the facts.
"Maybe it won't meet the expectations that people have," Gillespie acknowledged.
Asked whether he expected officers to participate, Gillespie said, "I doubt it."
Contact reporter Laura Myers at [email protected] .com or 702-387-2919. Follow @lmyerslvrj on Twitter.