Artists paint outside the utility box
October 20, 2010 - 11:00 pm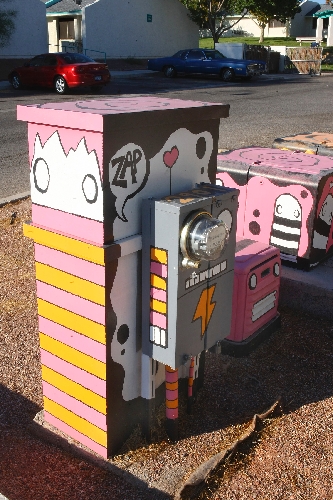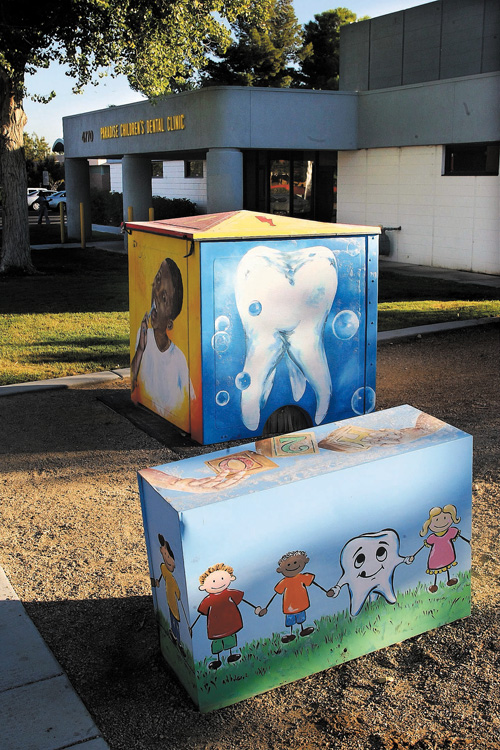 Weekend schedule a bit too crowded to take in a cultural event? Here's a novel solution: Pack the family into the car and check out the work of some of Southern Nevada's best artists, all without having to leave the vehicle.
Granted, you'll probably want to park at some point for a close-up view of the designs artists have painted as part of Clark County Parks and Recreation's Zap, in which artists turn ordinary — and let's be honest, ugly — utility boxes around town into eye-catching works of public art.
Starting this weekend, you'll have more works to check out once the pieces in the latest Zap, in the historic West Las Vegas neighborhood, officially are dedicated. That event runs from noon to 3 p.m. Saturday at Left of Center Gallery, 2207 W. Gowan Road in North Las Vegas. The gallery also will feature other works by some of the West Las Vegas Zap's artists, and guests may take free van tours of the art project.
Zap began in 2005 when the county selected 10 valley artists to paint utility boxes — those sealed, institutional gray or green boxes found along city sidewalks that house traffic signal controls and mechanics used by utility companies — in the Winchester neighborhood.
Such utility box art programs already had been done in a few other cities, notably San Diego, says Patrick Gaffey, cultural programs supervisor for Clark County Parks and Recreation.
During May and June 2005, 10 artists hit the streets to convert local streetside boxes into arresting pieces of art.
The Winchester Zap was such a success that a second edition, Zap2, with seven artists, followed in the Paradise Park neighborhood in 2008. Then this past spring, eight Zap artists used boxes in the neighborhood around the Martin Luther King Boulevard-Lake Mead Boulevard intersection as blank canvases.
The idea, Gaffey says, is to offer artists as much latitude as possible with which to work, although they are asked to create designs that "have something to do with this particular community."
Suzanne Hackett-Morgan, one of the artists of the inaugural Winchester Zap, noticed that her utility boxes resembled an assemblage of TV sets. So, she painted her boxes to look like old TVs, then researched actual TV shows from Las Vegas' past to find scenes to "play" on them.
Her utility box TVs feature images of Miss Cinderella, a Las Vegas kids' show host from the '50s and '60s; "Casino" inspiration Frank "Lefty" Rosenthal, who hosted a local talk show from the Stardust during the '70s; Count Cool Rider, who hosted a Saturday night horror movie show during the '90s; and veteran local TV weatherman and current RJtv anchor Nathan Tannenbaum.
Noelle Garcia, one of the artists who created pieces for the West Las Vegas Zap, says Zap marks her first experience in creating public art.
Normally, "I do very small paintings," she explains. "My artwork is really personal and, actually, there's material that's not very appropriate for public consumption. I do narrative work, and most of what I like to draw from is stories about my father, who was incarcerated for murder for quite a while."
So, her cluster of five boxes on Lake Mead Boulevard just west of J Street features images based on her own family photographs — of children playing, of her sisters in Lake Michigan, and of Garcia with her dad.
"I knew I wanted to paint some boxes of my dad, because my work is all about honoring my dad," she explains. "Despite some of the things he did, he is my father, so I wanted to incorporate him in there, and what better way than through public art?"
The Zap boxes are, indeed, examples of very public art, and not just in the sense that anybody passing by can see them. Rather, every piece in every Zap also was painted by artists who worked as the public watched, rather than in the privacy of a studio.
Garcia recalls that, when she was working on her boxes in April, "most of the people passing by were families or young children. They were all very positive about it and very excited.
"I did get stopped twice by police. And after I told them what I was there for, they're, like, 'You need to be very careful in this neighborhood.' But I didn't experience any unpleasantness."
Hackett-Morgan calls herself "very shy" about showing work in progress, but says doing her Zap piece was "freeing," even if passers-by were, at times, a bit impatient with the artistic process.
"I was on the same schedule as people at the bus stop right by it," she says, and for the six weeks or so it took to complete it, "we had our own little critique collective there: 'What's that supposed to be?' 'It's not done yet.' "
Also, unlike works in a gallery or museum, Zap pieces are subject to the ravages of weather, vandalism and, even, the occasional renegade vehicle.
Two of Hackett-Morgan's TV boxes — the ones featuring Rosenthal and Tannenbaum — were "destroyed by cars," she says. She repainted the Rosenthal piece, but was unable to redo the Tannenbaum piece because the utility that owned the box wouldn't allow it.
But, oddly enough, taggers tend to treat the boxes with respect.
"They do get defaced, but at a much reduced rate from just ordinary boxes," Gaffey says. "An ordinary box is just a blank canvas crying out for something to be written on it, and when people do write on these boxes, I notice they're very careful about finding black space with a plain background in some part of the painting."
Besides, he says, "we coated them with anti-graffiti coating, so we can quickly clean off any defacing."
Still, normal wear and tear is taking its toll on some of the older pieces.
"When we started this, people asked us: 'How long is this going to last? Are you going to try to protect them?' " Gaffey says. "We said, no, we're not going to preserve them. We'll be happy if they last three to five years.
"Now, it's been five years from the first Zap, and that one (Tannenbaum) box is completely gone and a few are in kind of sad shape. One with a portrait of Sammy Davis Jr. has a big piece of paint peeling off. But, on the other hand, some of them look very fresh."
Contact reporter John Przybys at [email protected] 2realnews.com or 702-383-0280.
See for yourself
Information about the Zap program and the three Zaps — including maps of where to find the pieces that make up each one — can be found here.
PREVIEW
What: Artist Reception and Zap 2010 dedication
When: Noon Saturday
Where: Left of Center Gallery, 2207 W. Gowan Road, North Las Vegas
Tickets: Free (647-7378 or 455-7030)