October 20, 2010 - 11:00 pm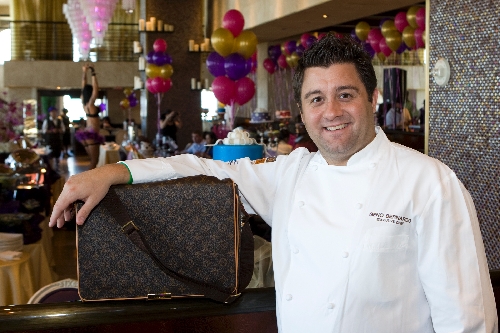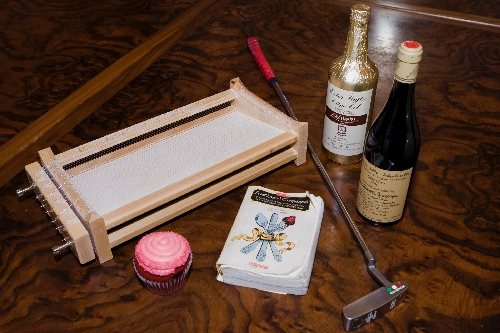 ■ Who? Geno Bernardo, executive chef of Nove Italiano inside the Palms
■ Location: High Society at Nove Italiano inside the Palms
■ Handbag: Louis Vuitton messenger bag
■ Are handbags status symbols? Sure, they can be viewed as status symbols, but that is not how I wear my bag. I like to roll with my Louis because it reminds me of my recent trip to Italy where I purchased it. … I am always checking out girls' bags to see if it reflects a fun, caring sensitive girl who is looking for a boyfriend who cooks amazing Italian meals.
■ What does this bag say about you? My bag says that I am established, but not pretentious. Adventurous, but not a tree-hugger and a little spicy — oh, wait, that's the Nove pasta sauce splashed on my Louis.
■ If someone found your bag and looked inside, what would they think of you? I am a chef with style, who has passion and patience for the game of golf, a wicked sweet tooth and an insatiable appetite for homemade pasta and red wine.
■ What's the most important item you've carried in your bag? Scotty Cameron putter. It is custom-designed to bring me one step closer to being on the PGA Tour.
■ What's the strangest item you've carried in your bag? High Society cupcake with lots of frosting.
■ Tell us about the first special bag you owned. My junior high wrestling bag. It was given to me by my cousin Scott "Bam-Bam" Bigelow. I still use that bag when I go to the gym.
■ Knockoffs: Love 'em or hate 'em? Hate 'em, only because the real thing is always the best.
■ Image is … everything. It is not only what you wear, but what you eat. For me, presentation starts with the clothes I put on the delicious selections I dish on the plates.
■ What's in your bag? Raineri Extra Virgin Olive Oil, 1990 Classico Italian red wine, Scotty Cameron putter, "Food Lover's Companion" book, High Society cupcake, pasta maker.