Dawson's answer to Tarver's insults: Domination in the ring
October 11, 2008 - 10:27 pm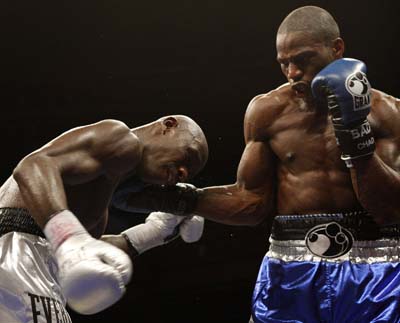 Chad Dawson responded to Antonio Tarver's trash talk with his fists Saturday night, silencing his 39-year-old foe to win the IBF and IBO light heavyweight titles.
After a pre-fight promotion dominated by Tarver's insults of his 26-year-old foe, Dawson dominated in a 12-round unanimous decision at The Pearl inside the Palms.
"There's a new king in town," said Dawson (27-0), who was nearly a 3-1 betting favorite. "Talking is just words. When you get in the ring, you've got to use your hands.
"He had a little bit more than I thought he would, but I had a little too much for him. I caught a lot of punches with my gloves. I was playing him. I worked him. Our philosophy is one round at a time, and that's what we did."
Judges Dave Moretti and C.J. Ross scored the fight 117-110, and Max DeLuca had it 118-109 — all for Dawson, who scored the only knockdown 46 seconds into the final round.
His trainer, Eddie Mustafa Muhammad, said Dawson followed the fight plan flawlessly.
"The strategy was to keep turning him and make him use his old legs," he said. "He used the plan to perfection.
"We trained at Mount Charleston for eight weeks. I knew we had plenty of gas in the tank."
Dawson gave up WBC light heavyweight belt for a chance at Tarver, whom he had pursued for nearly three years, and didn't squander the opportunity.
He even got a pre-fight pep talk from retired welterweight champion Floyd Mayweather Jr.
"He said, 'This is a gladiator sport. Just be yourself. You're the better boxer,' " Dawson said of his dressing-room phone conversation with Mayweather.
Dawson was the better fighter from the outset, using his superior hand speed to beat Tarver to the punch. Dawson's right jab was particularly effective, constantly splitting Tarver's defense and catching him flush in
the face. Tarver didn't embarrass himself Saturday, but he clearly showed his age. He wasn't able to elude the younger Dawson, who was quicker and stronger.
By the seventh round, Tarver was a desperate fighter. However, he had little behind his punches.
"I fought my fight, and Chad fought his," Tarver said. "I was never hurt. I didn't use my left as much as I wanted to. He was a busier fighter than I was tonight.
"I fought like a champion right to the end, but I did lose."
Dawson was impressive in virtually every facet. His defense was exceptional as he slipped punches and countered smartly. He threw punches in bunches, sometimes as many as a dozen in a row that went unanswered by Tarver.
The former champion refused to use his age as an excuse.
"No." Tarver said. "I took my hat off to him. Look, I respected him before I fought him. He had a WBC title. I'd like to fight him again."
Promoter Gary Shaw said there is a rematch clause. But that isn't likely to happen. Dawson probably doesn't want to go through another promotion answering to Tarver's insults. Dawson also would like a shot at Joe Calzaghe, Roy Jones Jr. or Kelly Pavlik.
"I want all the belts and be the top pound-for-pound fighter in the world," Dawson said. "Tarver had his time. It's my time now."