October 11, 2008 - 9:00 pm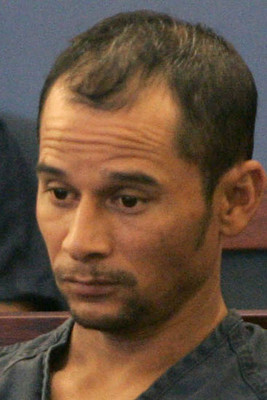 16-YEAR-OLD STABBED TO DEATH
Teen charged with murder surrenders
A 16-year-old charged with fatally stabbing another teenager turned himself in to Las Vegas police Thursday.
Steven Hogue was booked at the Clark County Detention Center on one count of murder with a deadly weapon in the death of 16-year-old Richard Martinez.
Martinez was stabbed Wednesday afternoon about a half block from his home near Jones Boulevard and U.S. Highway 95. He died hours later at University Medical Center.
Police said the stabbing might have been related to a fight over graffiti.
DEATH PENALTY SOUGHT
Day laborer indicted in slaying of woman
A 33-year-old day laborer accused of beating to death a 61-year-old woman was indicted this week on murder, kidnapping, robbery and other charges.
A Clark County grand jury indicted Yiorkis Pineda in the slaying of Otilia Soares at her home on Stewart Avenue near Lamb Boulevard on June 27.
Authorities unsealed the indictment Friday.
Las Vegas police said Soares and her husband hired Pineda to do repairs on their home. When her husband left the home to make a trip to a Home Depot, Pineda killed Soares, stole her jewelry and fled, police said.
Police tracked down Pineda after they recovered Soares' jewelry, including her wedding ring, from two pawnshops, police said.
After he was arrested, Pineda, also identified by police as Pineda-Laurencio, told authorities that he struck Soares after she lunged at him with a pair of pruning shears.
Prosecutors are seeking the death penalty against Pineda.