11 dead, 2 missing in oil-rig helicopter crash off Norway coast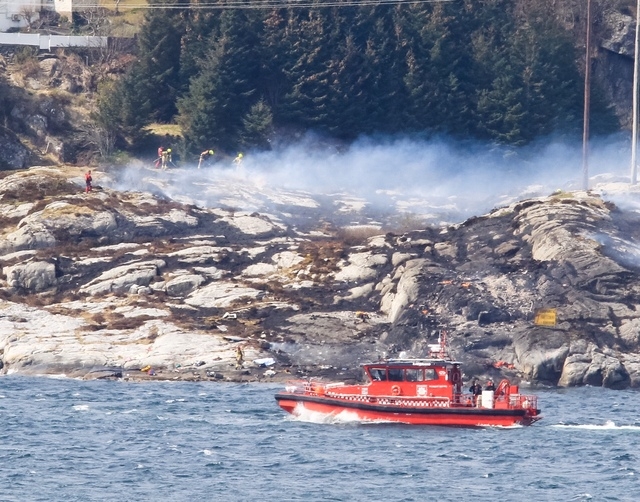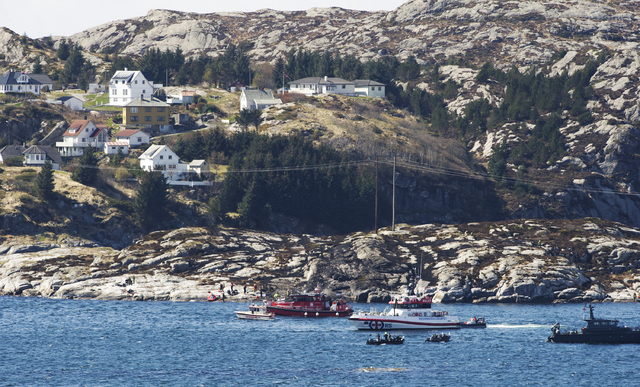 COPENHAGEN, Denmark — An oil-rig helicopter crashed Friday on an island off the coast of western Norway, killing 11 people and leaving two others missing, a rescue official said.
Jon Sjursoe, a spokesman for Norway's Joint Rescue Coordination Center, said the Eurocopter EC-225 helicopter was carrying 11 Norwegians, one Briton and one Italian from the Gullfaks B oil field in the North Sea to Bergen, 120 kilometers (74 miles) away on the Norwegian mainland. He did not know who was among the confirmed victims.
Norwegian broadcaster NRK said 11 on board were employed by the Norwegian oil and gas company Statoil ASA. The company didn't immediately return calls seeking comment.
Police spokesman Morten Kronen said the helicopter "totally smashed" as it hit the island of Turoey, near Bergen, and the 11 victims were found on land.
The helicopter's fuselage was found in the water off the island while its rotor system was on land, Sjursoe told The Associated Press.
"It is a very small island and (helicopter) parts are spread partly on land, partly in the sea," Sjursoe said.
Norwegian media posted photos of huge billows of smoke. Witness Rebecca Andersen told the Norwegian newspaper Verdens Gang that the helicopter's "rotor blades came rushing toward us."
"Then we heard a violent explosion," Andersen was quoted as saying.
Statoil said it had mobilized its emergency response team and had "temporarily grounded all equivalent traffic helicopters."