Budget hearing gets feisty as Nevada lawmakers, treasurer trade barbs
February 21, 2017 - 12:47 pm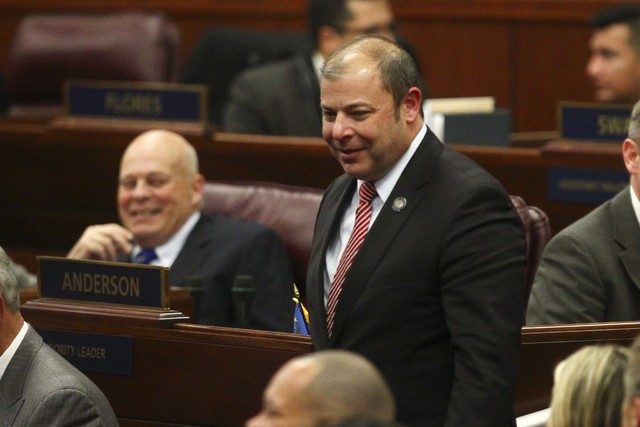 CARSON CITY — A Nevada Assembly budget hearing turned testy on Tuesday when a Republican lawmaker accused Treasurer Dan Schwartz of failing to follow legislative direction and suggested Schwartz has a history of being either "disingenuous or dishonest."
Assembly Minority Leader Paul Anderson, R-Las Vegas, pointed to Schwartz's hiring of a public information officer and his actions involving changes to the College Kick Start program as examples of his failure to follow legislative direction.
Schwartz, a fellow Republican, responded by saying he "deeply resented" Anderson's comments and that the office has followed the law.
The hearing in front of the Assembly Ways and Means Committee was expected to focus on the controversial Education Savings Account program, which would enable parents to receive public tax money to send their children to private schools, including religious schools.
Gov. Brian Sandoval has proposed spending $60 million on what critics call a voucher program in his 2017-19 budget. The program approved by Republican lawmakers in 2015 has been found constitutional by the Nevada Supreme Court, but the funding mechanism was rejected.
Getting the program funded will be a challenge with Democrats in control of the Legislature this session.
More than an hour of testimony came from the public before the budget review began, with many speakers opposed to the ESA program, although several individuals testified in support.
But the review by the Assembly panel veered into other concerns from the start.
Assembly Speaker Jason Frierson, D-Las Vegas, hit the same theme as Anderson, noting that although lawmakers rejected a public information officer position, the role was created and filled anyway. Now the office wants lawmakers to approve it in the new budget.
Schwartz said he stayed within the budget guidelines set by the Legislature.
"We need that position," he said. "We are performing the job the Nevada Constitution asks us to do."
Anderson minced no words in his assessment of Schwartz's actions over the past two years.
"Some of the requests you have in this budget are directly related to things that we have either denied or turned down or advised otherwise," he said. "There is a history of not following directions from this committee.
"It is well documented in your own testimony," Anderson said. "It is just a history of being either disingenuous or dishonest, and I'm not sure which it is."
Schwartz interrupted to say he took offense at the statement.
Anderson said the Legislature's constitutional duty is to authorize the expenditure of funds in the way lawmakers direct.
"We have a duty here and you ignored our duty," he said. "You ignore the legislative branch. You ignore our abilities and our constitutional obligations to do our job.
"And I think often times you forget you are a compliance officer in the executive branch," Anderson said.
Schwartz fired back sharply at Anderson.
"I am not a compliance officer," he said. "I believe you were elected, what, by 11,000 to 12,000 citizens of Nevada? I was elected by 250,000 of them. I am also a member of the executive branch. I assume that somewhere in your education you were taught separation of powers." Schwartz said.
Contact Sean Whaley at [email protected] or 775-461-3820. Follow @seanw801 on Twitter.
RELATED
ESA talk dominates Nevada treasurer's budget presentation
Nevada Supreme Court strikes down school choice funding method
Decision delays Nevada education savings accounts
Nevada Supreme Court ruling will affect school choice legislation nationwide