Recession could spur session
October 11, 2008 - 9:00 pm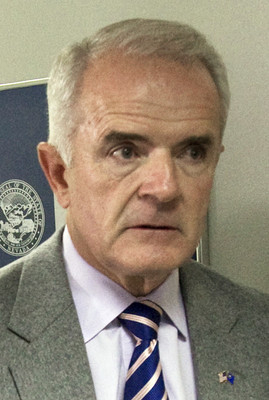 CARSON CITY — Gov. Jim Gibbons said Friday he may have to call a special session of the Legislature following the Nov. 4 election to deal with a state economy that has dissipated into a recession.
Gibbons said national economic experts do not see a recovery for at least 18 months. He added the $700 billion bailout of Wall Street may not be enough to induce banks to lend more and end the credit crunch that has contributed to the economic meltdown.
National unemployment, now 6.1 percent, will reach 7.1 percent in January, according to information Gibbons received in a National Governors Association briefing.
Nevada unemployment, now at a 23-year high of 7.1 percent, will increase to 7.6 percent in January, Gibbons said.
State economists, however, last week said Nevada unemployment will average 8.6 percent in both 2009 and 2010. That would be the highest rate in 25 years.
"This is the most dynamic (negative) change in the economy in Nevada ever," Gibbons said. "The reality is we are in an economic recession and we have to deal with that reality."
Because Nevada tax revenues have fallen $18 million below estimates made in June, Gibbons said he may have to call the Legislature into a special session to make cuts that include layoffs.
The governor and legislators already have cut state spending by $1.2 billion since January. He earlier asked state agency leaders to prepare for additional cuts of 14 percent when the Legislature convenes in its regular session in February.
Following a media briefing Friday, Gibbons' communication director Ben Kieckhefer said there are no immediate plans to call a special session, but the administration does not want to rule out that possibility if "something bad happens."
In a telephone interview, Assembly Speaker Barbara Buckley, D-Las Vegas, said it would be "more prudent" to study the economic situation rather than rush into a special session.
Buckley said Gibbons could propose cuts to the Legislature's Interim Finance Committee, which could approve them without the need for a special session.
"There is no doubt our economic picture is very grim," she added. "The economy will recover. It is a matter of when. We face serious challenges as the result of failed national economic policies."
Earlier this week Buckley said additional state budget cuts of 20 percent may be needed to deal with declining revenue, and Gibbons agreed Friday that cuts of that level may be necessary. "I would hate to think we have to deal with that number, but we very well may," he said.
If so, it would lead to layoffs of state employees, he added.
Buckley has been holding town hall meetings around the state seeking suggestions on how to stabilize the state's financial structure.
In response to questions, state Budget Director Andrew Clinger said there was no action that the governor and his staff could have taken a year ago — when they became aware the economy was declining — to reduce the effects of the current crisis.
Gibbons said he was willing to "take blame" if he made decisions that contributed to the problem, but all steps he has taken were based on what economists projected. The governor wants to convene an economic summit in November with bankers and other business leaders to discuss Nevada's economy and the housing foreclosure problems.
Gibbons also announced he has created a Housing Recovery Act Implementation Task Force that will coordinate how local governments spend $72 million in federal funding. The funds could be used to purchase abandoned or foreclosed homes.
Contact Capital Bureau Chief Ed Vogel [email protected] or 775-687-3901.