Sinking economy distresses voters
October 11, 2008 - 9:00 pm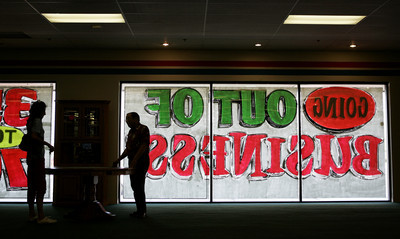 Bob Hechter's Oak World furniture store on East Flamingo Road flourished under the Clinton administration and is going out of business under the Bush administration.
That's the big reason why he's looking for a change on Capitol Hill come November.
Like 71 percent of respondents polled by the Review-Journal, Hechter feels that the economy is the most important issue in the presidential race.
He lays the blame for the country's financial meltdown at the feet of President Bush and the government for not acting swiftly and comprehensively in the aftermath of the Enron mess.
"They should have put in the necessary measures to make sure this didn't happen again," Hechter said Friday as he prepared for his clearance sale after 26 years in business. "It happened again and again with AIG and Merrill Lynch. Now with a worse economy in the next four years, this is an easy way out for these companies that go bankrupt."
The poll, conducted by Mason-Dixon Polling and Research, found that the war in Iraq and national security issues lagged far behind the economy at 8 percent. Further, 85 percent of registered Democrats cited the economy as the top issue, compared with 59 percent of Republicans.
The economy has become more of a concern since August when 44 percent of respondents named it as the most important issue, said Brad Coker, managing director of Mason-Dixon in Florida.
"Sure it's the economy. We have crashed," said Terence Dickinson, a retired lawyer. "You've got to understand the magnitude of this situation. Look at GM. I'm from Detroit. It wasn't just what's good for GM is good for me. Understand, they were once the largest company in the world. There's not a factory left in the city of Detroit."
When asked who they blame for allowing the current economic situation to develop, 40 percent pointed to Congress and the Democrats, while 38 percent cited Bush and the Republicans. Fifteen percent said "both," even though that choice wasn't read to them by pollsters.
"People said they couldn't blame one or the other, so they blamed both," Coker said. "It splits mostly along party lines. Republicans blame Congress and Democrats blame Bush."
Forty percent of respondents felt lending practices at government-backed Fannie Mae and Freddie Mac were most responsible for the current economic situation, as opposed to 24 percent who blamed Wall Street banks and brokerages that made risky investments.
Coker found it particularly interesting that among undecided voters, 63 percent pointed to Fannie Mae and 16 percent pointed to Wall Street. Again, 18 percent said "both."
"(John) McCain's got an opportunity with undecided voters, that this was Freddie Mac and Fannie Mae, a matter that the Democrats bumbled," Coker said.
Nine percent of Democrats and 7 percent of Republicans said the war in Iraq was the most important issue in casting their vote. National security and terrorism was cited by 17 percent of Republicans and zero percent of Democrats.
By far, the U.S. economy and rising unemployment will be the major issues in the presidential campaign, said Keith Schwer, economist at University of Nevada, Las Vegas. Losses associated with the stock market are affecting everyone's pensions and now there's increasing concern about jobs.
"The major challenge ahead will be to come back and find the right amount of regulation," Schwer said. "One of the problems was that things got out of control. So the next administration will have to rethink particularly the question of how to regulate financial markets."
Schwer said historically it takes at least three quarters to adjust to financial meltdowns and a lot will have to take place with "readjustments."
"It's very clear the old way of doing things didn't work," he said.
Certainly, the housing woes have buried Hechter. People aren't buying furniture when they're losing their homes.
"Because of the economy faltering, not so much the economy, but housing and mortgage, which is not the fault of the president, it's put a real hurt on the furniture industry," Hechter said. "My product just is not needed at this second by every person in Las Vegas. Other businesses are doing well. My buddy owns a gun store. Check loans are doing double their business."
Hechter said he can't comment on which presidential candidate he trusts to handle the economy, but he does think the Democrats can do a lot better job than Republicans.
"As for the pick," he said, "the president can't run the country by himself. I think they proved it when Bill Clinton was at the helm from 1992 to 2000. It's been a downward spiral since. I told my customers I didn't cause this mess and I don't have the answer. It's strictly a business decision."
Asked how confident they were that government intervention would help improve the economy over the long term, 5 percent said they were very confident; 37 percent said somewhat confident; 25 percent said not too confident; and 30 percent said not confident.
Paul Kincaid, spokesman for the Nevada Democratic Party, said we're seeing the "trickle-down" economics created by Republicans, including deregulation of financial institutions that led to this credit crunch and increased housing assessments that have left people upside down on their mortgage.
Tax cuts for the middle class proposed by Democratic candidate Barrack Obama is the first step in helping people throughout the country get back on their feet, Kincaid said.
It could also spur travel to Las Vegas, which has seen a 7 percent decline in gaming revenue this year and 1.5 percent decline in visitors. Obama has campaigned on tax cuts in the past and never delivered with any significant legislation, responded Rick Gorka, regional spokesman for Republican candidate McCain.
Another big difference, he said, is that Obama wants to keep the U.S. corporate income tax at 35 percent, the second-highest rate in the world, while McCain wants to cut it to 25 percent.
"John McCain actually has a record of creating a pro-growth, pro-jobs economy," Gorka said.
A total of 625 registered Nevada voters were interviewed Oct. 8-9 by Mason-Dixon, including 415 in Clark County. There were 305 men and 320 women. The margin of error is 4 percentage points.
Contact reporter Hubble Smith at [email protected] or 702-383-0491.