51s pound Tacoma for fourth straight win
April 29, 2016 - 10:49 pm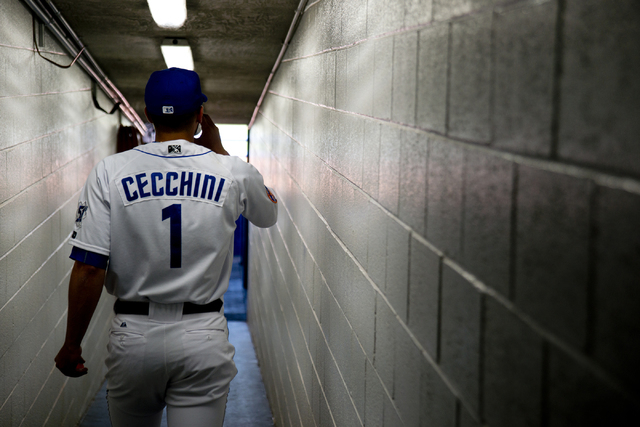 Seven straight batters reached base in the first inning before Tacoma Rainiers starter Joe Wieland recorded an out.
By that point, the two-run lead he was staked to had disappeared and the Las Vegas 51s were well on their way to their fourth straight victory.
The 51s used a four-run first inning and seven-run second en route to a 14-6 win.
On their four-game winning streak, they've scored 35 runs, evening up their record at 10-10.
"People always say hitting is contagious so when a guy gets the job done on your team, it kind of fires you up and it kind of just keeps going," shortstop Gavin Cecchini said.
Brandon Nimmo, leading off in place of Dilson Herrera who is dealing with a sore back, helped get the 51s' first two rallies going, walking to lead off the first inning and singling to lead off the second.
The 51s scored their first run of the game without a hit — capitalizing on a pair of walks, errors and one fielder's choice.
But the 51s got plenty of hits, too, finishing the day with 15.
First baseman Marc Krauss had four hits in five at-bats, including his second home run of the season, and Cecchini finished the day with four of his own.
He drove in three runs — two on a single up the middle in the first inning and one on a double in the second.
Cecchini, a first round pick in 2012, came into the day hitting .213 in his first season in Triple-A but Friday's four-hit game brought him up to .258.
"The ball's been falling and not going into people's gloves. … Early — I say early — I mean it's still April, I'm talking early, early on, probably first two weeks, I was lining out to people and just the ball wasn't really finding any holes but lately they've been getting through," Cecchini said. "(I'm) just staying with my approach and the results will be there."
Recently, though, manager Wally Backman said Cecchini has made a couple adjustments.
"He really slides to the baseball so his head's going forward too much. He's worked on that," Backman said. "The work that he's done, he's still to me is doing it a little bit too much, but he's more under control I think in the batter's box right now."
Like Cecchini, Krauss also drove in three runs and four other players had one apiece.
They needed it with starter Rafael Montero not at his sharpest.
Montero gave the 51s five innings but gave up four runs — three earned — while surrendering nine hits.
"He struggled a little with his command. He pitched behind in the count. And the years that I've had Rafael Montero, that's not Rafael Montero. He's a strikethrower," Backman said. "He didn't have his good stuff and he fought through five innings and was still able to get the win because we scored so many runs."
Betsy Helfand can be reached at [email protected]. Follow on Twitter: @BetsyHelfand