Four years later, Bryce Harper recalls his first game with Nationals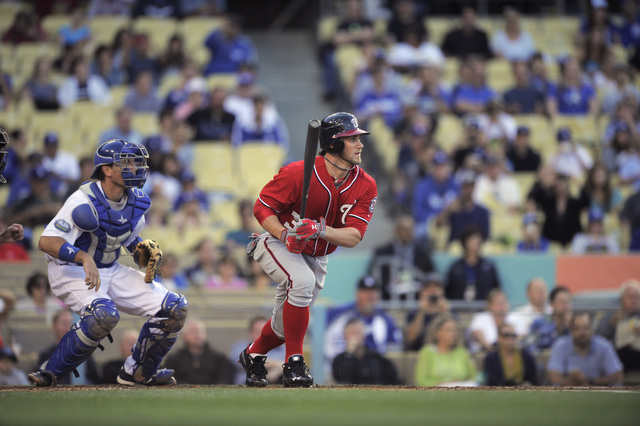 For that day, four years ago Thursday, to shape up properly, Mike Rizzo had to sit through the snow and spit of a western New York spring to decide whether a 19-year-old outfielder could withstand the brilliant sunshine of Los Angeles, of Dodger Stadium, of the big leagues.
In April 2012, the Washington Nationals were off to a fine start, just as they are this season. But their offense was uneven, and their best hitter, Ryan Zimmerman, was out of the lineup with an ailing shoulder.
"We needed a spark," said Rizzo, the Nationals' general manager.
So he searched for one in Rochester, New York, where Las Vegan Bryce Harper played center field for the Syracuse Chiefs. Rizzo arrived unannounced and for a day tried to fade into the furniture. But when he emerged for batting practice before one game, Harper saw him. The Nationals, Harper knew, were headed to Los Angeles.
"Why are you here?" Harper remembers asking.
"I just wanted to watch you guys play," Rizzo lied.
"I'm like, 'Yeah, there's no chance you want to be here,' " Harper said. "I was definitely suspicious."
The suspicions were justified. After Rizzo watched three games in two days, the Nationals promoted Harper to the majors. Four years ago Thursday, Harper walked into Dodger Stadium and found his name on the lineup card, hitting behind second baseman Danny Espinosa and ahead of catcher Wilson Ramos, in seventh.
His hair was dark, in something of a shaggy mohawk. He had pedigree but no accomplishments. But he was a major leaguer.
"He was a kid," said Nationals outfielder Jayson Werth, the right fielder and No. 3 hitter that day — the position in both the lineup and the field Harper mans now.
No major leaguer, be he jovial or jaded, forgets how he was first called up — where he was, who delivered the news, what flight he took to get to which big league stadium. Harper was in the home clubhouse at what was then known as Alliance Bank Stadium, north of downtown Syracuse, just across Interstate 81 from Onondaga Lake. He was miles away, in geography and maturity and baseball IQ, from where he is now — the National League Most Valuable Player, leading all of baseball in home runs and OPS and Q-rating.
"There's no 30-second version, from then to now," Rizzo said. "That's a 30-hour story."
'THAT'S SO PERFECT'
Every major league story starts in some minor league town. Rizzo made the trek because Zimmerman's shoulder had prevented him from playing for a week and the Nationals had averaged just 2.7 runs over a six-game stretch. Rizzo's inclination was to promote Harper, the top overall pick in the 2010 draft who was hitting just .227 against Triple-A pitching. The Nationals' evaluators had just about reached consensus: Harper wasn't ready.
"I was hearing some things that I had not noticed ever since he was 14 years old, the whole time that I had known him," Rizzo said. "Flinching against lefties. Trying to pull too much. Not sure he's getting jumps in center. Can he play center at all?
"I had made up my mind that I wanted to like him enough to bring him to the big leagues. But I had to see it for myself."
After snow canceled the first of a three-game series against Rochester, Rizzo took in a game that Wednesday and an abbreviated doubleheader Thursday — eight innings in the first game, seven in the second. He saw Harper face only one left-hander, against whom he pulled off, of all things, a first-pitch sacrifice bunt. In three games, Harper went 3-for-8 with three walks. Rizzo liked how he took some tough pitches, how he played in center.
Snow canceled that Friday's game in Syracuse, but Tony Beasley, then the Chiefs' manager, posted a lineup card anyway. Harper's name wasn't on it.
"Super weird," Harper remembers. He went to Beasley: "I need to play."
Beasley made it simple: "You're getting on a flight," he said, "to L.A."
Harper grew up in Las Vegas. He knew his entire family, all his friends, could make it to Dodger Stadium in time for that Saturday night game.
"I'm opening up in L.A.?" Harper remembers thinking. "That's so perfect."
That night, Stephen Strasburg, the top overall pick the year before Harper, pitched for Washington. Harper was there, in part, because Rizzo had determined the stage would not be too large.
"I didn't have butterflies at all, really," Harper said afterward.
His teammates, hardened by the idea of the long season ahead and trained to be immune to anything that might seem like a milestone, treated the game as what it was: No. 21 of 162.
"It wasn't like we didn't think he was ever going to make it," Zimmerman said. "It was more just a matter of time."
Manager Davey Johnson put Harper in left, with Rick Ankiel in center and Werth in right.
Harper's first at-bat came against Dodgers right-hander Chad Billingsley, a tap-out back to the pitcher in the second. His second came in the fifth, when he flied out to left-center. His third came in the seventh, with the Nationals ahead 1-0 on Adam LaRoche's homer.
Harper fell behind 1-and-2, but then worked Billingsley, taking a fastball to even the count, then a slider to get it full, then fouling off a change-up. Billingsley left his next pitch, a 93 mph fastball, up in the zone. Harper lashed at it violently, sending it toward center, where Matt Kemp awaited.
"I was just hoping it'd get over Kemp's head," Harper said.
It did, like a Scud missile, drilling into the base of the wall. Here, in Hollywood, was Harper's first appearance as a leading man. In between first and second, his helmet started to bounce, so he flung it off. The Dodger Stadium crowd, 54,242 strong, booed lustily. In that moment, whether Harper would be a star couldn't be determined with any degree of certainty. In that moment, what was a dead-cinch lock: He had star quality.
"The bigger the situation, the more he's focused in, and he's just steely-eyed," Rizzo said this week. "He's one of those guys. He's Michael Jordan. He's Bobby Orr. When others are tighter, he's looser."
In the bottom of that inning, Harper unfurled a throw from left to home that bore resemblance to a fishing line with a tuna on one end; Ramos dropped it, and a run scored. In the ninth, with runners at the corners, Harper ripped a liner to left, a sacrifice fly that gave the Nationals the lead. In the bottom of the inning, as closer Henry Rodriguez uncorked three wild pitches and blew a two-run lead, a fan leaped over the fence and ran toward left field, toward Harper. A dozen security staff tackled him.
"Crazy," Harper said.
HOW TO BE A TEAMMATE
As he remembered all this Tuesday afternoon, Harper lounged in a plush chair in the home clubhouse at Nationals Park. He wore a gray T-shirt bearing one of his favorite phrases, "It Don't Matter," a reminder that whatever happened the night before doesn't determine what will happen the next day. He was, with his teammates filtering in, the picture of comfort.
How different from April 28, 2012, and the weeks and months that followed. Werth and Zimmerman pointed out that back then, Harper had shuttled from team to team — a year at the College of Southern Nevada to 72 games at Class A Hagerstown to 37 at Double-A Harrisburg in 2011 to 21 at Syracuse that spring.
"He kind of had to learn how to be a teammate," Zimmerman said, "because he had kind of bounced around."
"You don't build relationships like that," Werth said.
Those first few years, as he carried with him star qualities without the star production to back it up, Harper struggled more, his teammates said, with how to interact in the clubhouse.
"I look back at it, and there were times where I sit there going, 'Golly, am I really going to be able to do this?' " Harper said. "Is it going to come easy, or is it going to be a process?"
It was a process that began that night at Dodger Stadium. For the production to come out — nine home runs and 24 RBIs in 21 games this season — he had to understand how to act in a major league clubhouse, how to be a major league teammate.
"Now he's got a room full of guys that would take a bullet for him," Werth said.
"He knows he can trust us," Zimmerman said. "He can tell us anything. He can talk to us about anything. At the beginning, I don't know that it's because he didn't want to. I just think he didn't know how."
In his debut, after he crushed his double and pushed across the lead run and escaped the crazy fan, Harper remembers one bit that seems trivial but that stands out to him more than anything else — Kemp's home run to win it for the Dodgers in the 10th.
"He absolutely crushed that ball," Harper said.
As Kemp rounded third, the Dodgers' faithful chanted "MVP! MVP!" at him. Harper, like the rest of his teammates, strode off the field, to the dugout, to the clubhouse. He could not — we could not — know what would come next.
"It's still a process, and it will always be a process," said Harper, one that started in an action-thriller of a night in Hollywood four years ago Thursday.
Bryce Harper's MLB debut
FIRST AT-BAT: Tap-back in the second inning to Dodgers pitcher Chad Billingsley, who threw him out at first.
SECOND AT-BAT: Fly-out to left-center field in the fifth.
THIRD AT-BAT: Double to center field in the seventh.
FOURTH AT-BAT: Sacrifice fly to left field in the ninth.