Unusual regimen aids bull rider's body, mind
October 20, 2010 - 11:00 pm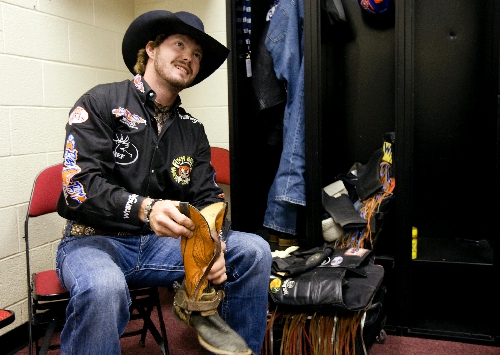 The last time mystical meditation and an ancient Eastern discipline mixed with cowboys was probably in the 1970s when actor David Carradine played monk Kwai Chang Caine on the TV show "Kung Fu."
In the latest East-meets-West scenario, Austin Meier has turned to yoga to help him prepare for the rigors of the Professional Bull Riders series.
Meier, 23, started Wednesday's opening night of the PBR World Finals at the Thomas & Mack Center ranked first in season points.
With $1 million awaiting this year's champion, riders can no longer get ready for competition simply by jumping on rank bulls in practice pens and then doing elbow curls with cans of Coors.
Meier discovered yoga and pilates late last year when his wife, Kristin, began using workout software that featured the disciplines on their Nintendo Wii video game system.
"My wife wanted Wii Fitness for her to have some fun working out," Meier said a couple of hours before Wednesday's opening go-round. "I got to giving it a try. It was pretty amazing what it could do for a bull rider."
Yoga is a system of exercises that promotes control of the body and mind. Pilates is a method of physical and mental exercise involving stretches and breathing.
Incorporating the new exercises into his traditional workout regimen has paid off for Meier, helping him win $62,000 and place sixth in the 2009 Finals and win $263,703 this season.
The cowboy from Kinta, Okla., has won a PBR-leading five event titles this year after having won only one event title the previous four years.
"A lot of guys think this is a tough-man sport, and some of the dudes are like, 'What are you doing messing with yoga?' " Meier said. "One of the things (yoga) does for me is it helps you with where your center of gravity is when you're in an awkward position. Riding bulls, our bodies are always in an awkward position."
Meier rode RMEF Elk Country for 85.5 points Wednesday to retain his lead in the standings when second-place rider J.B. Mauney was bucked off. Dustin Elliott won the round with an 89.25-point ride on Hee Hee Gee Bee on the first ride of the go-round, which drew a crowd of 9,127.
Meier said he thinks yoga and pilates have helped develop his muscles to react more quickly to the herky-jerky, bone-rattling moves of 1,600-pound bulls.
"In bull riding, our muscles are (strained) from the time we nod our head until we walk out of the arena. Reacting faster is important," he said. "So much happens in those eight seconds, you really can't explain it."
The new workout also helps with his mental approach to bull riding, Meier said.
"A big part of yoga and pilates is your breathing and how you control your breathing," he said. "It really helps you get in the right frame of mind.
"I'm here to ride the rankest bulls they run under me. This helps calm you to have a clear, focused mind."
Grasshopper from "Kung Fu" couldn't have said it better himself.
Contact reporter Jeff Wolf at [email protected] or 702-383-0247.