Beware of pitfalls on path to title
January 9, 2013 - 2:02 am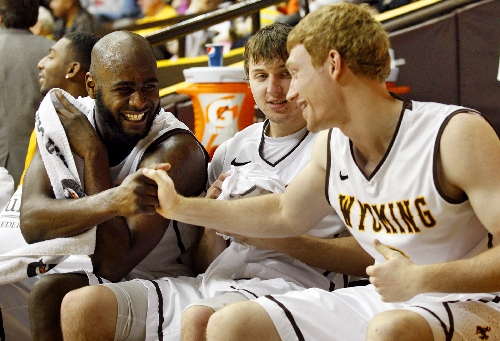 ALBUQUERQUE, N.M. – Realism. Mystery. Depth. Suspense. Strong characters. They all are traits of a terrific horror movie.
They also define what many believe will be the best and most competitive Mountain West basketball season in history.
Believe it: The MW that begins play tonight is scary-good.
The top six teams enter conference play with records of 12-2 or better, and the league's seven returning members are 82-14. The league's Ratings Percentage Index is No. 3, behind only the Big Ten and Big East.
Any of five teams – New Mexico, UNLV, San Diego State, Colorado State and Wyoming – could win the MW title and few would blink.
Here are a few things to watch for when it comes to those five:
BEWARE OF THE NET
Anyone who wears a net around his neck fascinates me, so much that I took a photo of Steve Alford doing so as he spoke following his team's conference tournament championship win last March. I still have it. He looks as goofy as ever.
Alford, however, arguably is the Mountain West's best coach, and as the seasons pass and preseason hype annually finds itself stuck to the UNLVs and San Diego States of the league, the Lobos always seem to be a factor in the end.
New Mexico enters its game against UNLV tonight with the conference's best RPI (11), its best strength-of-schedule rating (11) and wins against Connecticut and Cincinnati.
The Lobos are for real. The net-around-neck guy has won three regular-season league titles in five seasons and will have the Lobos contending again.
BEWARE OF ANY TEAM WITH A KID NAMED IVERSON
We're not talking about practice, man.
Colorado State has been stellar in games, specifically at home, where the Rams are more ferocious in Moby Arena than Moby Dick. They have won 22 straight in Fort Collins and have a senior-dominated lineup that won't back down from anyone under first-year coach Larry Eustachy.
Colton Iverson is a front-court transfer from Minnesota averaging 14.7 points, 8.9 rebounds and shooting a league-best 59 percent. The Rams also have my favorite MW player in senior Wes Eikmeier, who makes purists believe not every college player has forfeited the midrange game for his next opportunity to dunk.
Eustachy can coach and seems to have put past demons behind him, meaning they haven't run out of Natty Light beer at the local Anheuser-Busch plant.
This is your dark-horse team to win it all, skilled and experienced enough to stand alone at the top.
BEWARE OF 7,220 FEET ABOVE SEA LEVEL
For some time now, opposing players have seen the warning sign about altitude that welcomes them to Arena Auditorium in Laramie, Wyo., took a deep breath and figured that while the Cowboys' lungs might be more conditioned to the elements, their skills eventually would doom them.
Not anymore.
Off to its best start at 13-0, Wyoming has shown plenty to suggest the Cowboys will have a say in who wins the league. While a schedule rating of 206 kept Wyoming from cracking any Top 25 polls until this week, the Laramie trip is even tougher now. Leonard Washington is a senior beast at forward. He also might be 45 years old.
BEWARE OF JAMAAL FRANKLIN BECAUSE, WELL, JUST BECAUSE
The good Franklin is the league's best player not named Anthony Bennett, a kid who averages 17.2 points and 9.9 rebounds for a San Diego State team that is the highest ranked MW side at No. 16. The bad Franklin can turn the ball over with the best of them and take shots not seen in a C Division recreation league game.
But no MW backcourt is tougher or more talented than the one San Diego State features, and Franklin is a reigning league player of the year capable of winning the honor again.
BEWARE OF ANY TEAM WITH MORE THAN ONE PLAYER WITH A HYPHENATED LAST NAME
Dave Rice-A-Roni?
It's doubtful the UNLV coach will opt for a flashier moniker, unless it would guarantee a Final Four run, at which time Rice would be willing to add a last name with more hyphens than anyone this side of Barcelona.
As it stands, he has two players – Bryce Dejean-Jones and Carlos Lopez-Sosa – who go by the way of a double-barreled name. If Dejean-Jones can remember it's not necessary to take as many shots as there are letters in his last name before the first media timeout and Lopez-Sosa understands during his 10 or so minutes each game that opposing players figured out that Euro ball-fake move two years ago, the Rebels should have every chance to win a conference title.
That, and they have the guy named Bennett. Yeah. He's pretty good. Yeah. He makes a difference.
Las Vegas Review-Journal sports columnist Ed Graney can be reached at [email protected] or 702-383-4618. He can be heard from 11 a.m. to 2 p.m. Monday through Friday on "Gridlock," ESPN 1100 and 98.9 FM. Follow him on Twitter: @edgraney.