10 questions with Review-Journal UNLV beat writer Mark Anderson
October 20, 2010 - 11:00 pm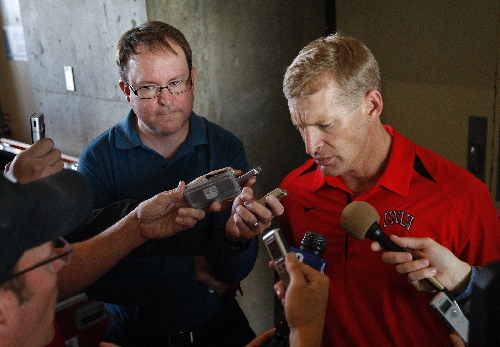 Mark Anderson remembers playing in the snow as a youngster in the northern mountains of Pakistan, not too far from where Osama bin Laden is believed to have hidden out for much of the past nine years.
The world's highest waterfall, Angel Falls, was in Anderson's backyard in Venezuela.
As an eighth-grader, he had the chance to hone his baseball skills in the Dominican Republic, birthplace of countless major leaguers.
While his father traversed the world to build dams, Anderson was always close by, but football was always half a world away.
While he has traveled the world, the one thing Anderson has yet to see is a consistent, competitive football team don the home jerseys at Sam Boyd Stadium.
Today, Anderson is in his 12th year covering UNLV football for the Review-Journal. Twelve years, one winning season.
He is also one of 65 sports writers and broadcasters who vote on The Associated Press Top 25 poll.
Anderson talked about his worldwide travels, the ups and downs of covering football in Nevada and being an AP poll voter.
1. You're a University of Florida graduate. Explain the difference in the football vibe between Florida and Las Vegas?
In Florida, if you're not at the game, there's a feeling you're missing out. Florida and Florida State football are discussed passionately year-round. In Las Vegas, we have so many entertainment options and we're such a transient city, very few people think they have to be at the game.
2. What's your process for voting in the AP Top 25 Poll?
Until this season, I used my best judgment when putting together my ballot. It was difficult, though, trying to find separation among teams with similar records, especially since it's nearly impossible to watch them all play.
I came up with a points system this season that emphasizes strength of schedule and de-emphasizes margin of victory. It also takes out any bias. It's not a perfect system, but there isn't one that exists.
3. Who or what has been the biggest disappointment during your 12 years of covering the Rebels?
It would have to be the Rebels failing to capitalize on the success of the 2000 season. They went 8-5 and routed Arkansas in the Las Vegas Bowl, but quarterback Jason Thomas got hurt the following spring and was never quite the same. Then UNLV opened the 2001 season against Arkansas in Little Rock and absolutely gave that game away. You could feel the lasting impact and the chance missed to really turn around the program.
4. What do you believe has been the Rebels' crowning achievement during that time?
I go back to that 2000 season. UNLV had to win its final three games to become bowl eligible, and the Rebels pulled out victories against New Mexico, San Diego State and Hawaii that all went down to the wire. It was an unbelievably dramatic stretch of games.
5. What will it take to make UNLV a winner again?
Previous coach Mike Sanford may have turned off a lot of fans with his critical news conference after he was fired, but he made one point that was dead-on. Winning is a shared effort, meaning the administration must decide if it truly wants a strong football program and then back it up financially. Such a commitment will help coach Bobby Hauck in recruiting.
I also wouldn't be surprised if Hauck takes some chances on some top players with off-field issues, because those guys would bring an edge as well as talent to the program.
6. Do you have a favorite player you've covered? Why?
Plenty of players have come through the program I enjoyed covering. Some who stand out: Randy Black, Kevin Thomas, Casey Flair, Jay Staggs, Leon Moore, John Greer, Jason Thomas, Beau and Zach Bell, Ryan Wolfe and Marquel Martin.
It's difficult to separate them, but I remember how Martin met the media after giving up the winning touchdown at UNR in 2007. He gained my immediate respect.
7. What does Hauck have to do to turn AROUND the program?
He's trying to do it the right way by establishing a more disciplined and focused team and recruiting high school players, not going the junior college route.
UNLV is a tough place to win. It's going to be difficult for anyone to turn around this program.
8. How has living in other countries impacted you?
It's made me appreciate what we have here. There are few thrills like touching down on U.S. soil after you see poverty that exists elsewhere. But you also see how even those in the most desperate circumstances can have a positive outlook.
9. Should there be a playoff system IN the football bowl subdivision?
Absolutely. It's the only level that isn't decided by a playoff. I enjoy voting in the AP poll, but that's no way to select a national champion. It's got to be done on the field. Who's to say a Boise State or TCU won't win it all if given the chance?
10. Who will play for the BCS title?
It's so wide open. I think Boise State and TCU will be left out of the mix because of their schedules. I think Oklahoma will come out of the Big 12 undefeated. I would say Oregon for the other slot, but the Ducks always seem to disappoint in big moments. Then again, I don't know who else it would be, because I think two BCS teams will go unbeaten. So I'll go with Oklahoma-Oregon.
Contact assistant sports editor Dennis Rudner at [email protected] or 702-383-0309.