Trudi's romance quickie: 'Driven by Desire'
October 11, 2008 - 4:00 am
---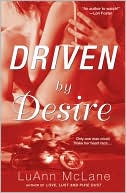 In LuAnn McLane's "Driven by Desire," Jayden Michaels, daredevil motocross racer, leaves behind Alexia Spencer when they are teenagers. She became fearful of his safety after a near fatal crash.
Many years later, he practically runs her over while training for his next race. Alexia is back in her hometown licking the wounds of a failed marriage.
Can they overcome the hurts from long ago and admit they still love each other? Can Alexia find the strength to tell Jayden about their baby she lost?
There are actually two love tales in this one story, Alexia's sister Brianna also falls in love with Jayden's friend and partner Colin.
This novel really is very well-written. Even though the story line is pretty typical (teenage sweethearts become parted then meet again as adults) the author keeps you interested in the very personable characters.